FacebookWebsiteBioLatest NewsState FormsPhoto Gallery Contact
Capitol Update
Friday, September 1, 2023
The latest news from the State Capitol 
You are welcome to contact me through this link.
 
Celebrating PA's 2023 Trail of the Year!




I was so happy to join in the celebration this week recognizing the Mount Jewett to Kinzua Bridge Trail Club (MJ2KB) after its section of the Knox and Kane Rail Trail was chosen as Pennsylvania's Trail of the Year for 2023! We gathered at the club's new pavilion at Kinzua Bridge State Park, and I was honored to present them with a House citation.

In the group photo, from left: Carolyn Stroup, president, MJ2KB Trail Club; Janie French, director, Headwaters Charitable Trust; Cliff Lane, McKean County commissioner; Cindy Adams Dunn, Department of Conservation and Natural Resources secretary; me; and Tamara Bleggi, constituent relations specialist, Sen. Cris Dush.
  
Veterans Services Available



Area veterans are invited to contact my office to schedule appointments to talk with a representative from the American Legion to ensure they are getting the services and support they need.

Due to changes initiated by the American Legion, appointments in the Bradford and Kane offices will be conducted virtually via a tablet.

Appointments are required for meetings with the Legion representative, whether they are in person, by phone or by tablet. The schedule is as follows:

 •  Coudersport office: Thursday, Sept. 7, from 10 a.m. to 1 p.m. The Coudersport office is located at 107 S. Main St. Please call 814-274-9769 to schedule an appointment. •  Bradford office: Wednesday, Sept. 13, from 9 a.m. to 1 p.m. The Bradford office is located at 78 Main St., first floor. Please call 814-362-4400 to schedule an appointment. •  Kane office: Wednesday, Sept. 27, from 9 a.m. to noon. The Kane office is located at 54 Fraley St., Suite 2. Please call 814-837-0880 to schedule an appointment.
Assistance is available with issues such as compensation, education, pension, health care and death benefits. Veterans need not be a member of the American Legion to participate.
  
Port Allegany Awarded Grant for Arnold Avenue Bridge Replacement


The borough of Port Allegany has been awarded $500,000 toward the total replacement of the Arnold Avenue Bridge.

The bridge crosses over Lillibridge Creek, sits approximately 125 feet from the Port Allegany High School and is the main transportation route for two schools. The grant is an important investment in the safety of residents and students who travel over the bridge to get to and from school.

Funding was awarded through PennDOT's Multimodal Transportation Fund and is in addition to $1.57 million in funding awarded to the project earlier this year. Engineering for the project is underway and construction is expected in 2025.
  
Kane Senior Citizens Expo Sept. 8



Please join us on Friday, Sept. 8, for the Kane Senior Citizens Expo!

Open to senior citizens and their family members and caregivers, the event will be held from 9 a.m. to 1 p.m. at the Kane Community Center, 46 Fraley St., Kane.

The event is free to attend, and lunch will be provided. State, county and local exhibitors will be on hand to distribute information and answer questions about a variety of issues. Health screenings will also be offered, and door prize drawings will be held at 12:30 p.m.

If you can't make it this time, mark your calendar for our final expo of the year at the Roulette Fire Hall on Friday, Oct. 13, from 9 a.m. to 1 p.m.

For more information about the Kane expo, contact the Kane office at 814-837-0880. Information is also available at RepCauser.com or on Facebook at Facebook.com/RepCauser.

PLEASE NOTE: Due to the expo, my offices in Bradford and Kane will be closed all day on Friday, Sept. 8. The office in Coudersport will remain open and may be reached by calling 814-274-9769.
  
Addressing PA's Nursing Shortage


Working to address the critical shortage of nurses and ensure access to health care, Pennsylvania is taking the first step to implement the Nurse Licensure Compact by allowing nurses with multistate licenses issued by 40 other states and territories to practice here.

Effective Sept. 5, registered nurses (RNs) and licensed practical nurses (LPNs) who hold a multistate license through the interstate Nurse Licensure Compact (NLC) will be permitted to practice in the Commonwealth. The change provides a much-needed expansion in the pool of recruits for hospitals and other health care facilities, and helps alleviate burdens on overworked nursing staffs, making conditions safer for both patients and health care workers.

A November 2022 survey by The Hospital and Healthsystem Association of Pennsylvania (HAP) showed vacancy rates of 30% for RNs providing direct care, which is a 10 percentage point increase since 2019. A separate HAP report from January 2023 showed that Pennsylvania could have a shortfall of more than 20,000 RNs by 2026.

This is an important step toward reversing that trend.
  
PA Elk Cam Back for Another Season!



You can once again check in on the state's elk herd from the comfort of your own home!

The Pennsylvania Game Commission has installed a camera on Elk County game lands that are typically a hub of elk activity as the bugling season heats up. In the coming weeks, bulls will become more vocal as they compete with one another for available cows.

In addition to the elk, viewers can expect to see turkeys, deer and other wildlife as well. The top time to see elk on camera is late in the afternoon.

If you'd like to see the bugling season in person, the PA Game Commission reminds visitors to always be "Elk Smart." Give elk space, never feed elk and do your part to ensure the welfare of the herd.  

Learn more about elk here.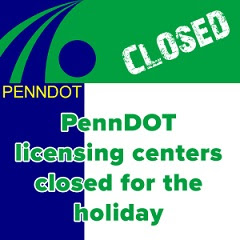 PennDOT Driver License, Photo Centers Closed for Labor Day Holiday

All PennDOT driver license and photo centers, including the Riverfront Office Center in Harrisburg, will be closed Saturday, Sept. 2, through Monday, Sept. 4, in observance of Labor Day.

Customers may still obtain a variety of driver and vehicle products and services online through PennDOT's Driver and Vehicle Services website, www.dmv.pa.gov.
  
Ag and Youth Grant Program Now Accepting Applications


 The Department of Agriculture is inviting proposals for this year's Ag and Youth Grant Program.

The program provides direct grants of up to $7,500 and matching grants of up to $25,000 to support projects, programs and equipment purchases by youth-run organizations, and those with programs that benefit youth or promote development in agriculture, community leadership, vocational training and peer networking.

The grant program was created by the Legislature in 2019. Additional information about the program is available here.

Grant applications must be submitted online through the PA Department of Community and Economic Development Electronic Single Application. Applications are due by 5 p.m. on Friday, Sept. 29.