FacebookWebsiteBioLatest NewsState FormsPhoto GalleryContact
Capitol Update Friday, August 18, 2023

You are welcome to contact me through this link.
 



I recently had the opportunity to join colleagues from NW PA and officials with REV Renewables for a tour of the Seneca Pumped Storage Hydroelectric Generation Station at Kinzua Dam. Impressive facility and very important for maintaining the stability of our electric grid.
  
More People Eligible for Property Tax/Rent Rebates Next Year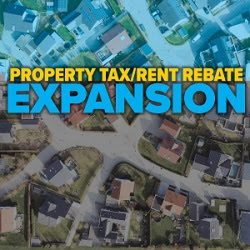 More Pennsylvania seniors and people with disabilities will be eligible for increased property tax or rent relief next year under a new law approved by the General Assembly in July.  

Act 7 of 2023 increases income limits for the Property Tax/Rent Rebate Program for homeowners and renters to $45,000 annually. The law also raises the maximum rebate each homeowner or renter can receive from $650 to $1,000.

Thanks to the new law, more than 150,000 additional individuals will be eligible for assistance, which is more important than ever due to rising costs driven by inflation. The expansion will be in effect next year when residents apply for assistance based on rent and property taxes paid in 2023. Those claims will be paid in 2024.

There is still time to apply for the current year's program, which is based on rent and property taxes paid in 2022. Apply online at mypath.pa.gov or contact my office for free assistance.

The Property Tax/Rent Rebate Program benefits eligible residents 65 years and older; widows and widowers 50 years and older; and people with disabilities 18 years and older.
  
Your Input is Needed for PA Master Plan for Older Adults



The Department of Aging is currently gathering input on Pennsylvania's Master Plan for Older Adults, a 10-year, state-led and stakeholder-driven strategic plan designed to help transform the infrastructure and coordination of services for older Pennsylvanians.

To ensure local feedback is included in that plan, Office of Human Services, Inc. Area Agency on Aging for Elk, McKean and Cameron Counties is holding listening sessions in each county as follows:

 •  Elk County: Tuesday, Aug. 29, from 1-2:30 p.m. at the Fox Township Senior Center, 365 Main St., Kersey. •  McKean County: Tuesday, Sept. 19, from 1-2:30 p.m. at the Greater Bradford Senior Center, 60 Campus Drive, Bradford. •  Cameron County: Tuesday, Sept. 27, from 1-2:30 p.m. at the Emporium Senior Center, 105 E. 4th St., Emporium.
If you are unable to attend the local sessions, there are other options for providing feedback. Learn more about the plan and other ways to participate here.
  
Kane Senior Citizens Expo Sept. 8




Please join us on Friday, Sept. 8, for the Kane Senior Citizens Expo!

Open to senior citizens and their family members and caregivers, the event will be held from 9 a.m. to 1 p.m. at the University of Pittsburgh at Bradford, Sports and Fitness Gymnasium, Campus Drive, Bradford.

The event is free to attend, and lunch will be provided. State, county and local exhibitors will be on hand to distribute information and answer questions about a variety of issues. Health screenings will also be offered, and door prize drawings will be held at 12:30 p.m.

If you can't make it this time, mark your calendar for our final expo of the year at the Roulette Fire Hall on Friday, Oct. 13, from 9 a.m. to 1 p.m.

For more information about the Kane expo, contact the Kane office at 814-837-0880. Information is also available at RepCauser.com or on Facebook at Facebook.com/RepCauser.

PLEASE NOTE: Due to the expo, Causer's offices in Bradford and Kane will be closed all day on Friday, Sept. 8. The office in Coudersport will remain open and may be reached by calling 814-274-9769.
  
Slow Down for School Buses



With students returning to class, school buses are or soon will be back on the roads. Motorists, parents and children are encouraged to refresh their memories about how to share the road safely.

Pennsylvania law requires motorists stop at least 10 feet away from school buses when their red lights are flashing and their stop arm is extended. This applies to motorists when they are behind or traveling alongside a school bus, as well as those meeting the bus or approaching an intersection where a bus is stopped.

Vehicles should remain stopped until the red lights have stopped flashing and the stop arm is withdrawn. Do not proceed until all the children have reached a place of safety.

Penalties for failure to obey school bus safety laws can result in a $250 fine, five points on a driving record and a 60-day license suspension.

Parents are reminded to ensure their children are at the bus stop early to avoid rushing. Students should stay where the bus driver can see them while boarding or exiting the bus.  

Click here for more information and tips on school bus safety.
  
New 511PA Features to Aid Little League Fans, Truckers, Human Trafficking Prevention



The Pennsylvania Department of Transportation (PennDOT) recently unveiled updates to its 511PA traveler information service.

Motorists heading to the Little League World Series (LLWS) in Williamsport are encouraged to plan their trip using the real-time travel and alternate-route information available online at www.511PA.com/LLWS. The website is dedicated to monitoring traffic conditions on the primary travel routes to the event, including Route 15 south to Route 220 to Market Street (from north); Route 15 north (from south); Interstate 80 east to Route 220 north to Market Street (from west); and I-80 west to Route 15 north (from east).

Commercial vehicle drivers can benefit from the new "PennDOT Bridges" feature on the 511PA traffic map. It shows locations for all state-owned bridges posted with weight or other limits, along with closed bridges. This information can be viewed on the web map and is also available as an alert that can be heard in drive mode on the mobile app.

To combat human trafficking, PennDOT updated the 511PA Travel Links page to include new information for such crimes. Travelers can report suspected human trafficking via the Pennsylvania State Police (PSP) tipline at 888-292-1919 or tips@pa.gov. 511PA also includes more information with recommendations from PSP on how to recognize and report suspected human trafficking. The 511PA mobile app and phone service have also been updated to provide travelers easy access for reporting suspected human trafficking activity.
  
Call Before You Dig



Aug. 11 marked National 811 Day – a day dedicated to reminding residents, contractors and utility workers of the importance of calling 8-1-1 before digging to help ensure the safety of excavation projects across the state.

Every time an underground utility line is hit, there is a risk to the contractors or homeowners who are doing the digging; to utility workers and emergency responders who are mobilized to deal with the damage; and to bystanders who live, work or travel near the locations of the incidents.

State law requires contractors and residents to contact PA One Call at least three business days prior to excavation – triggering alerts to all utilities within an intended digging area and prompting utilities to mark where their facilities are located. Pennsylvanians can dial 8-1-1 to connect with the One Call system, while out-of-state residents or businesses can call 1-800-242-1776.

Learn more at www.PA1call.com.