FacebookWebsiteBioLatest NewsState FormsPhoto GalleryContact
Capitol Update Friday, April 28, 2023
The latest news from the State Capitol
You are welcome to contact me through this link.
 
McKean County Conservation District Meeting



This week is designated Conservation District Week across the Commonwealth. On Thursday, I had the opportunity to join the McKean County Conservation District for its annual legislative luncheon. We discussed projects that were completed in 2022 and upcoming projects to be completed this year. We also had a great discussion of the 2023-24 state budget, fighting against invasive species and the 2023 federal farm bill. Thank you to the conservation district board and staff for all your great work!
  
Happy Anniversary!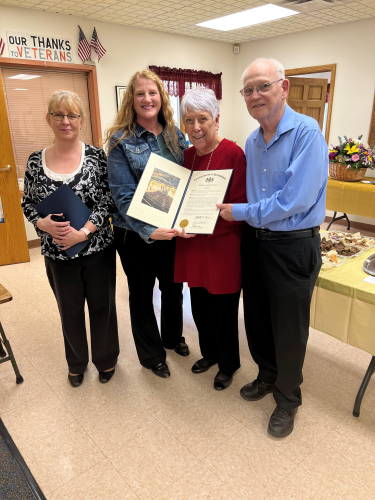 Congratulations to the Greater Bradford Senior Activity Center on its 50th anniversary! The center offers an array of valuable programs to area seniors, including Prime Time Health, a senior volunteer program, tax assistance, Medicare and supplemental insurance assistance, a daily lunch program, and the state-funded Farmers Market Nutritional Voucher program. It also offers a variety of activities for members, including card games, bingo, holiday parties, crafts and games.

Since I was out in Harrisburg Wednesday, Rhonda Race from my office had the honor of presenting a House citation to (from left) Amy Patterson, assistant director; Carol Steinhauser, director; and Steve Hepfer, president of the board. Keep up the good work!
  
Fighting to Protect Your Second Amendment Rights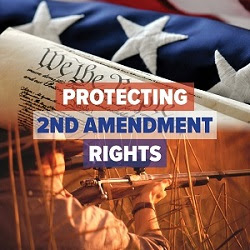 With Democrats now in charge in the state House, it's no surprise they've already taken aim at our Second Amendment rights.

Earlier this week, the House Judiciary Committee approved four gun control bills. All Democrats on the committee voted yes; all Republicans on the committee voted no.

The bills would mandate gun owners report lost or stolen firearms within 72 hours (House Bill 338); require all firearms, including long guns, to be sold with trigger locks and mandate storage requirements (House Bill 731); call for universal background checks for all gun purchases (House Bill 714); and create a "red flag" process that could lead to confiscation of people's firearms without due process (House Bill 1018).

Each of these bills now goes to the full House. It is not clear if they will be brought up for a vote next week. I am a firm NO! on any bill that seeks to enact laws that would turn legal firearms owners into criminals.
  
Setting the Record Straight on Orphan, Abandoned Wells

Conventional oil and gas production is so important to our local economy. Unfortunately, lawmakers who don't truly understand the industry are again trying to make unnecessary regulatory changes that will cause substantial harm to these small employers.

Rep. Greg Vitali, majority chairman of the House Environmental Resources and Energy Committee, is pushing legislation that would increase well bonding requirements. This purported "solution" would do nothing to address the long-abandoned legacy wells drilled many decades or even more than a century ago.

Thanks to Arthur Stewart, owner of Cameron Energy Company in Warren County, for setting the record straight about well bonding, and orphan and abandoned wells at a legislative hearing this week. He explained the difference between orphan and abandoned wells, highlighted existing tools at the disposal of the Department of Environmental Protection (DEP) to deal with producers who are actively abandoning their wells, and explained why an increase in bonding would do more harm than good.

Watch Mr. Stewart's testimony in full below.

 Click here to view video.
Meanwhile, I took DEP's acting deputy secretary for the Office of Oil and Gas Management, Kurt Klapkowski, to task for his agency's foot-dragging on implementing a new grant program that could significantly boost the plugging of orphan wells across the Commonwealth.

Watch that exchange below.                                     


Click here to view video.
Despite Mr. Stewart's compelling testimony, Chairman Vitali intends to advance his well bonding bill, House Bill 962, next week. Rest assured I will oppose the measure and continue advocating for these valued energy producers.
  
Reminder: Town Meeting – Finding Solutions to PA's EMS Crisis



Ambulance services across the Commonwealth are struggling with rising costs, declining revenue and a shortage of providers – and the problem is especially severe in rural areas like ours.

We all need to work together to ensure our emergency responders can continue providing the life-saving services we depend upon. That's why I am inviting emergency medical services (EMS) providers, county and local officials, and concerned citizens to the following meeting:

Town Meeting: Finding Solutions to PA's EMS Crisis
Thursday, May 11, at 6 p.m.
Smethport Fire Department
109 S. Nelson St., Smethport

Aaron Rhone, director of the Bureau of EMS within the Pennsylvania Department of Health, is scheduled to attend, as is Heather Sharar, executive director of the Ambulance Association of Pennsylvania, and Tom McElree, executive director of EMS West. A full agenda is still being developed.

RSVPs for the meeting are requested but not required. Those who wish to attend are encouraged to sign up at www.RepCauser.com or call one of my offices in Bradford (814-362-4400), Coudersport (814-274-9769) or Kane (814-837-0880).
  
Veterans Services Available



Area veterans are invited to contact my office to schedule appointments to talk with a representative from the American Legion to ensure they are getting the services and support they need.

Due to changes initiated by the American Legion, appointments in the Bradford and Kane offices will be conducted virtually via a tablet.

Appointments are required for meetings with the Legion representative, whether they are in person, by phone or by tablet. The schedule is as follows:

 •  Coudersport office: Thursday, May 4, from 10 a.m. to 1 p.m. The Coudersport office is located at 107 S. Main St. Please call 814-274-9769 to schedule an appointment. •  Bradford office: Wednesday, May 10, from 9 a.m. to 1 p.m. The Bradford office is located at 78 Main St., first floor. Please call 814-362-4400 to schedule an appointment. •  Kane office: Wednesday, May 31, from 9 a.m. to noon. The Kane office is located at 54 Fraley St., Suite 2. Please call 814-837-0880 to schedule an appointment.
Assistance is available with issues such as compensation, education, pension, health care and death benefits. Veterans need not be a member of the American Legion to participate.
  
Outreach Hours Set for May 4



To help ensure access to state government information and services, I will host monthly outreach office hours at the following locations on Thursday, May 4:

 •  Emporium Borough Office – 9-10 a.m. •  Port Allegany Borough Office – 11 a.m. to noon.
Services available include assistance with any state-related issues or concerns, driver license and vehicle registration applications, and applications for various state programs, such as the senior citizen Property Tax/Rent Rebate and PACE/PACENET prescription drug assistance programs.
  
LIHEAP Heating Assistance Program Extended to May 12


 The deadline to apply for assistance through the Low Income Home Energy Assistance Program (LIHEAP) has been extended to Friday, May 12.

LIHEAP is a federally funded program that helps individuals and families pay their heating bills through home heating energy assistance grants. It also provides crisis grants to help in the event of an emergency or if a resident is in danger of losing his or her heat due to broken equipment, lack of fuel or termination of utility service.

The income eligibility guidelines for LIHEAP are set at 150% of the federal poverty income level.

Residents may apply for LIHEAP online at www.compass.state.pa.us, by phone at 1-866-550-4355 or by contacting the County Assistance Office in their county of residence.

Click here for additional information.