FacebookWebsiteBioLatest NewsState FormsPhoto GalleryContact
Capitol Update Friday, August 25, 2023
The latest news from the State Capitol 
You are welcome to contact me through this link.
 
Visit to Cole Manor



Thank you to Chrissy Tingley and residents at Cole Manor in Coudersport for welcoming me this week for a tour and a chat over coffee and donuts. It was a pleasure meeting you all!
  
Conventional Oil and Gas Tour



It was great to have so many fellow lawmakers on hand this week for a tour of conventional well sites in Warren County. Pictured is a well site Cameron Energy in Clarendon is preparing to plug. It is important state leaders understand the importance of this industry in helping to meet our energy needs and supporting good-paying jobs for our residents.
  
How May We Help You?

Click here to view video.
To help keep state government accessible to you, I operate three local offices in Bradford, Coudersport and Kane. Here's a look just a few of the ways we are available to assist you. Please stop by to see us!
  
Kane Senior Citizens Expo Sept. 8




Please join us on Friday, Sept. 8, for the Kane Senior Citizens Expo!

Open to senior citizens and their family members and caregivers, the event will be held from 9 a.m. to 1 p.m. at the Kane Community Center, 46 Fraley St., Kane.

The event is free to attend, and lunch will be provided. State, county and local exhibitors will be on hand to distribute information and answer questions about a variety of issues. Health screenings will also be offered, and door prize drawings will be held at 12:30 p.m.

If you can't make it this time, mark your calendar for our final expo of the year at the Roulette Fire Hall on Friday, Oct. 13, from 9 a.m. to 1 p.m.

For more information about the Kane expo, contact the Kane office at 814-837-0880. Information is also available at RepCauser.com or on Facebook at Facebook.com/RepCauser.

PLEASE NOTE: Due to the expo, my offices in Bradford and Kane will be closed all day on Friday, Sept. 8. The office in Coudersport will remain open and may be reached by calling 814-274-9769.
    
Do You Receive My Sportsman Newsletter?




Each year, I send a newsletter highlighting the latest news of interest to sportsmen and women in our region and across the Commonwealth. It includes helpful links to information about hunting and fishing, as well as this year's seasons and bag limits.
I'm compiling the newsletter now. To make sure you receive it, sign up here.  
  
Attention First-Time Hunters!


Hunter-Trapper Education courses are required for all first-time hunters and trappers before they can buy a license in the Commonwealth. The Pennsylvania Game Commission offers both in-person and online options.

Participants, whether in-person or online, will receive a training certificate recognized throughout North America when they pass a test at the end of the course. The course covers responsible hunting behavior, firearms basics and safety, basic shooting, wildlife conservation and management, outdoor safety and survival, hunting techniques, trapping and furtaking basics, and hunting safety.

Free in-person training is offered in various locations across the Commonwealth and is open to anyone age 11 or older. To find and register for a course near you, click here. 

There are several online options.
 •  The Game Commission's official online course is available to anyone age 16 and older and costs $34.95 to complete. •  The Interactive Pennsylvania Hunter-Trapper Education course is open to anyone age 11 and older and costs $50 to complete. •  The National Rifle Association offers a free online hunter education course open to anyone age 11 and older.
Learn more about hunter-trapper education here.
  
McKean County HHW, Electronic Waste Collection Sept. 16

The McKean County Conservation District will host a Household Hazardous and Electronic Waste Collection Day on Saturday, Sept. 16, from 9 a.m. to 1 p.m. on Memorial Drive in Duke Center.

This is an opportunity for McKean County residents to recycle unwanted electronics and household chemicals safely. Appointments are required to help reduce traffic flow and wait time. To participate in the drive-through recycling event, click here to register online or call 412-567-6566.

Fees are based on the weight of items collected. Credit cards are the only form of payment accepted. Freon devices are $0.37 per pound; TVs and monitors $0.70 per pound; and all other e-waste $0.48 per pound. For chemical disposal, paints and stains are $0.85 per pound; bulb and batteries $0.95 per pound; chemicals $1.15 per pound; and propane cylinders of all sizes are $7.50.

For more information about the event and items accepted, click here.
  
Protect Yourself from Scams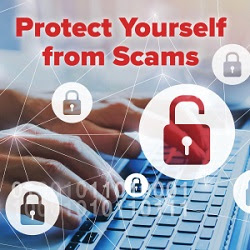 In the wake of recent arrests involving scams against older Pennsylvanians, the Office of Attorney General (OAG) is again reminding people of all ages to be on the lookout for someone trying to cheat them out of their hard-earned money.

Some tips to keep in mind:  
 •  Never send money or gift cards to someone you do not know. Also, gift cards are for gifts, not for paying debts or bills. •  If you are suspicious or have concerns about a solicitation, call your local police or the OAG hotline at 800-441-2555. •  If it sounds too good to be true, it probably is. "Sweepstakes" scams have been common for years, so be vigilant and use common sense. If you did not sign up for a sweepstakes, you could not have won. •  Sign up for scam warning text alerts from the Office of Attorney General. Mobile carrier rates may apply.
Additionally, the OAG recommends an acronym to evaluate unsolicited phone calls or emails:
 •  S: Sudden – The call or email is unexpected. •  C: Contact – Scammers will contact you by phone, email or in-person. •  A: Act Now – The request will be urgent and assert penalties if you do not act quickly. •  M: Money or Information – The scammer will request money or personal information.
Pennsylvanians who believe they have been victims of a scam should file a complaint with the Office of Attorney General's Bureau of Consumer Protection by calling 800-441-2555 or emailing scams@attorneygeneral.gov.